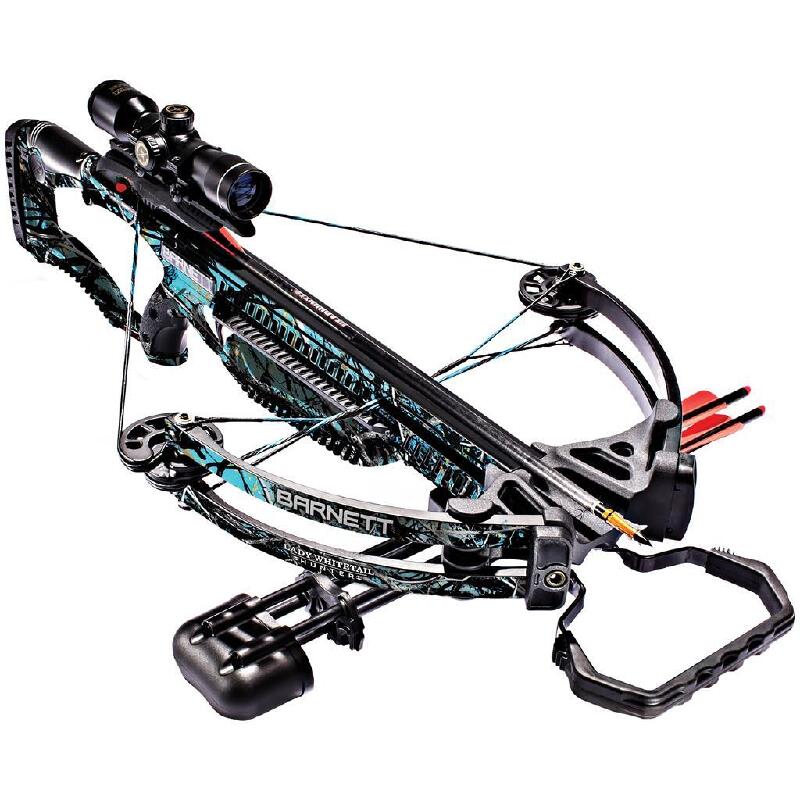 Barnett Lady Whitetail Hunter II Crossbow
by Barnett
Free Shipping on all orders over $59 for continental USA. No hidden fees.
Shipping & Returns: Learn More
Description
Benefits
Made for Women who like to get results without going broke. The Lady Whitetail Hunter II is made expressly to answer women-specific needs. Become the shooter you've always been.
Features
Draw Weight: 150 lbs.,
Speed: Up to 350 FPS,
Kinetic Energy: 103 ft-lbs.,
Power Stroke:

 

12.5"

,
Length: 

34.25",

Adjustable butt pad
Rubberized foot stirrup 

Can be used with an integrated crank cocking device (not included)

Width: 16

.125" uncocked, 13.25" cocked.

,
Mass Weight: 6.4 lbs,
The Barnett Lady Whitetail Hunter II Crossbow Package includes:
4x32 multi-reticle scope,

Lightweight quiver,

Two 20" Headhunter arrows,

A rope cocking device

A sample of lubewax
Description
The Barnett Lady Whitetail Hunter II Crossbow checks every box on the list of criteria for the best crossbow for women. It has a nice look with a compact and light design, It got speed with a low draw weight, an excellent safety mechanism to maximize protection and a really affordable price with many technological improvements.  
The Lady Whitetail Hunter shoots up to 385 FPS with a 380-grain bolt for an expected 103 ft-lbs. of kinetic energy at 150 pounds of draw weight (Tested by Barnett). Different bolts weight will have an impact on its final velocity and its kinetic energy. Heavier bolts generate usually more momentum (penetration factor) which is a key factor while hunting. 
No matter which scenario you will pick toward bolts, this crossbow offers more than enough power to take down any tough North American game. This means success while hunting
Barnett added some new crossbow technology that provides a more efficient crossbow to handle. These changes increased the shooting experience of the Barnett Crossbows.
The new Triggertech trigger eliminates completely the creep of the previous Barnett models. This zero-creep Frictionless Release Technology creates a free-floating roller between the sear and the trigger for a cleaner crisp break at only 3 pounds of pressure. They also changed the arrow retention spring for a bristle arrow retention. This device reduces noise and increases precision by improving the arrow grip and its alignment on the flight track. Another detail, they rubberized the foot stirrup to absorb even more vibrations while firing.
As for safety, Barnett provides quality automatic safety and a Sure Safe anti-dry-fire system with a nock sensor. It also features a finger reminders and a pass-through foregrip for added safety. The crossbow comes with a rope cocker and is compatible with crank cocking device.
2017 Barnett crossbows raised crossbow standards to another level. The Barnett Lady Whitetail Hunter II crossbow beneficiates of all these changes. This crossbow deserves his ranking in our top 5 best crossbows for women. 
Customer Reviews
You need to be logged in to submit a review.
There are no reviews for this product yet. Be the first to give feedback.