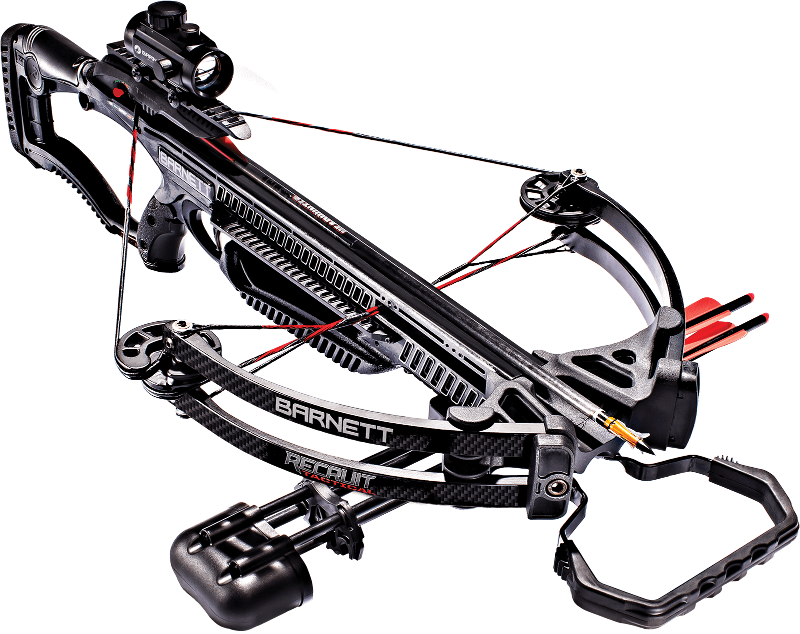 Barnett Recruit Tactical Crossbow Package
by Barnett
Free Shipping on all orders over $59 for continental USA. No hidden fees.
Shipping & Returns: Learn More
Description
Benefits
Having the possibility to start crossbow shooting without breaking the bank is a great feeling. The features encompass in the Barnett Recruit Tactical is equal to high-end crossbow features.
Features
Draw Weight: 130 lbs.,
Speed: 330 FPS,
Power Stroke: 12.5",
Length: 34.25",
Width Uncocked: 16.125",
Mass Weight: 6.4 lbs.
The Barnett Recruit Tactical Compound Crossbow Package Includes:
A Premium Red Dot Sight
A Rope Cocking Device
A Lightweight Quiver
Two 20" Headhunter™ Arrows
A Lubrication Wax
Description
The Barnett Recruit Tactical compound crossbow package deserves its own definition even if it's a Recruit. The technology installed in this 2017 version of the recruit split it from the previous models. It stills the same "grow with" type of crossbow but with more efficiency.
The Recruit Tactical is expected to deliver 330 FPS for about 91.9 ft-lbs. of kinetic energy with 380 grain (Tested by Barnett) at 130 pounds of draw weight. You can make the assumption that this crossbow can be faster and generates more kinetic energy with heavier bolts. No doubts now, the Recruit has its hunting model.
The major improvements for this 2017 version of the Recruit are the TriggerTech Frictionless Release Technology™, the new custom limbs that deliver more speed for the same draw weight as the Recruit Black and the new Soft-Lok™ Floating Bristle Arrow Retainer.
The new metal injected molded trigger from Triggertech eliminates the creep and breaks more cleanly than previous models at about 3 pounds of pressure. The Trigger system comes with a nock sensors and anti-dry fire that give you peace of mind when you cocked your crossbow. They did not stop safety there; the Recruit Tactical comes also with the finger safety reminders, the pass-through foregrip, and the anti-vibration foot stirrup.
The new brush arrow retention improves arrow grip and alignment while reducing noise and vibration.
Its design leaves a stealth feeling but still eye-catching with its red accent and it is now compatible with cranking devices. 
The Recruit Tactical like the previous models is easy to assemble making this crossbow a serious choice to consider for beginners of all ages, especially for youth beginners but clearly now a serious option for any serious hunters.
All this new technology combined with the premium Red Dot Sight creates a quieter and more accurate crossbow for a really affordable price. 
Customer Reviews
You need to be logged in to submit a review.
There are no reviews for this product yet. Be the first to give feedback.