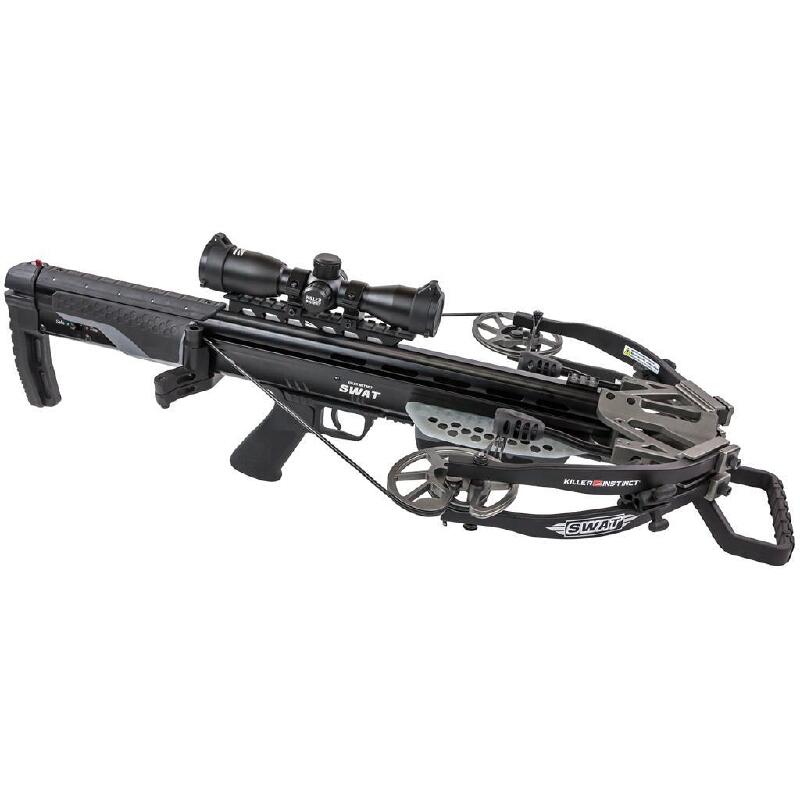 Killer Instinct Swat 408 Crossbow Package (Only Pre-order)
Free Shipping on all orders over $59 for continental USA. No hidden fees.
Shipping & Returns: Learn More
Description
Benefits
Safest crossbow on the market with spectacular results. Imagine yourself holding this unique piece of technology and knowing that you have no worries at all concerning the quality or safety issues. This unique design makes you feel like a SWAT tactical agent hunting your target. 
Features
Speed:

408 fps
Draw weight:

165 lbs
Power stroke:

17.5"

Width: 14"

Length: 29"

Weight:

6.9 lbs
Trigger:

2.5 lb
Axle to axle:

17.75"/14"
Finish:

Black
Killer Instinct Swat 408 Crossbow Package Includes
4x32 KI Lumix Illuminated Reticle E scope.
(3) Swat Lite 22" bolts.
5-bolt quiver.
Tactical side quiver mount.
Quick Draw rope cocker.
Rail lube.
Description 
The SWAT series offers a unique concealed string technology that compresses the string into the barrel. The enclosed AccuTac Barrel System features both an upper and lower barrel and doubles as an ultra-comfortable cheek rest. The same barrel system acts as a noise and vibration suppressor, resulting in one of the quietest crossbows available.
The SWAT with CST is able to produce speeds of 408 FPS for an expected 147.8 ft-lbs of kinetic energy with 400-grain bolts. This Double Barrel System eliminates friction and has a clear impact on accuracy. Paired with the momentum, this crossbow is simply dead accurate.
With the SWAT 408, the bolts and broadheads are now completely concealed in the riser for safety. With an overall length of 29 inches and only 165 lbs as draw weight, the Killer Instinct won't leave you indifferent.
It also features a smooth and efficient sniper-grade trigger system that breaks only with 2.5 lbs of pressure
Customer Reviews
You need to be logged in to submit a review.
There are no reviews for this product yet. Be the first to give feedback.