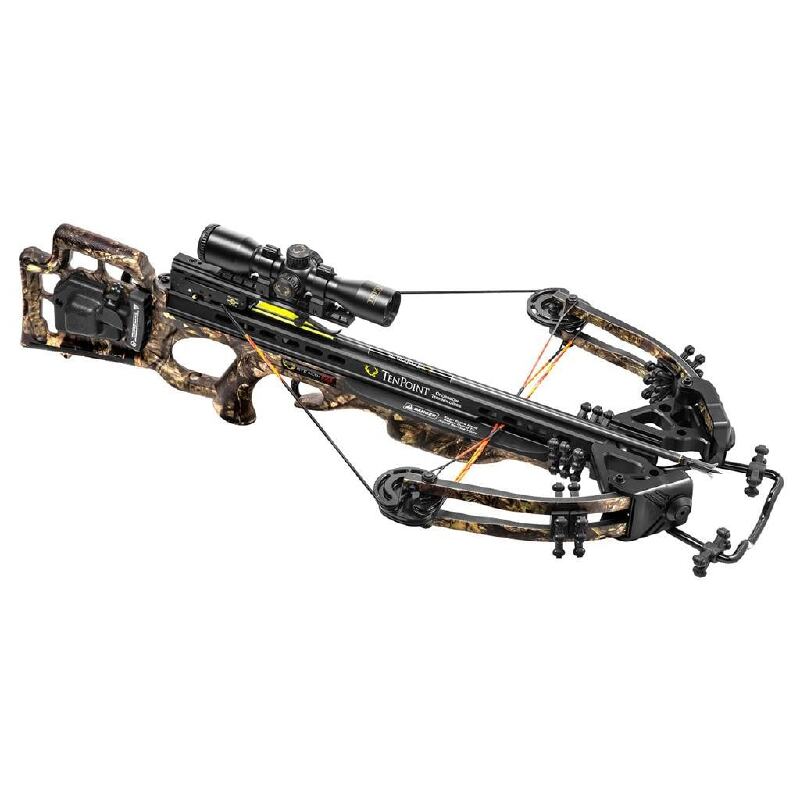 TenPoint Stealth FX4 Crossbow Package
by TenPoint
Free Shipping on all orders over $59 for continental USA. No hidden fees.
Shipping & Returns: Learn More
Description
Description
What not to like about this deadly fast and powerful crossbow!?
The TenPoint Stealth FX4 Crossbow delivers 350 foot per second and 116 ft-lbs of Kinetic Energy with 425-grain Pro Elite Arrows. Don't expect any games to resist. Do you want to put down a Cape Buffalo? A Grizzly? No problem!! 
For some reason, if you prefer a little more speed for slightly less KE, use 370-grain Pro Lite Arrows to gain 20 fps and reach a total of 370 foot per second with 113 ft-lbs of Kinetic Energy.
The Stealth FX4 is light and compact at a weight of 6.8 pounds and an outstandingly narrow axle-to-axle width of 13.3 inches when cocked which allows for an extreme maneuverability in hunting conditions. 
This model comes with a cocking mechanism. You get to choose between the ACUdraw 50, a rope cocking device nicely integrated to the stock of the crossbow reducing draw weight by 50% or the ACUdraw, a crank device allowing you to effortlessly cock your crossbow with just about 5 to 6 pounds of weight.
With TenPoint, safety always comes first. The design of the grip along with the rubber safety wings will keep your fingers comfortably and safely below the flight deck.
In addition to the security provided, the safety wings contribute to noise and vibrations reduction. Speaking of which, the crossbow also comes with a Bowjax noise dampening kit increasing quietness even further and making it harder to detect, giving total sense to its name "Stealth".
Light, compact, safe, quiet and extremely powerful, the TenPoint Stealth FX4 crossbow simply got everything you need for a successful hunting season!
Features
Speed: 350 fps with TenPoint's 425-grain Pro Elite Carbon Arrows
Kinetic Energy: 116 ft-lbs
Weight: 6.8 lbs
Length w/ stirrup: 34.4"
Draw Weight: 185 lbs
Axle-to-Axle Width: 17.6" (uncocked) 13.3" (cocked)
3.5 lbs T2 trigger
DFI (Dry Fire Inhibitor)

Mossy Oak Break-Up Country finish

Manufacturer's Warranty (Register you Crossbow)
The TenPoint Stealth FX4 Crossbow Package includes:
3x Pro-View 2 Scope
Instant detach 3-arrow quiver (ambidextrous)
3 Pro Elite arrows of 425 grain with 100-grain field points
Instructional DVD
Vehicle window sticker
Cocking Mechanism: ACUdraw 50 or ACUdraw
TenPoint Stealth FX4 Technical Video
Customer Reviews
You need to be logged in to submit a review.
There are no reviews for this product yet. Be the first to give feedback.