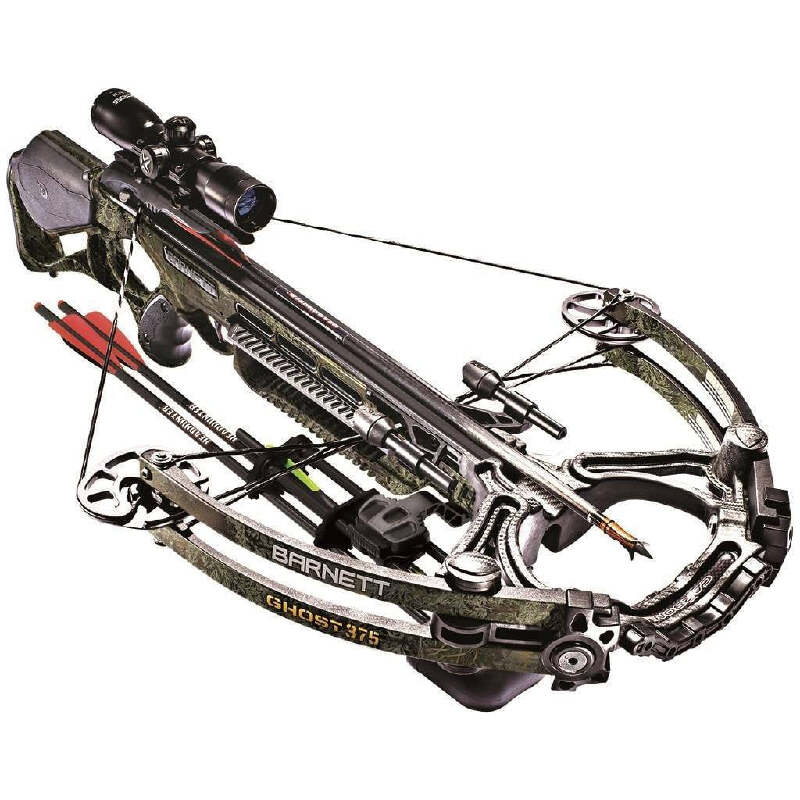 Barnett Ghost 375 Crossbow Package
by Barnett
Free Shipping on all orders over $59 for continental USA. No hidden fees.
Shipping & Returns: Learn More
Description
Benefit
Did you want an outstandingly fast and powerful model without going broke? A light weapon to stalk and wait for your ideal shot? Something reliable that will last you as long as you can imagine? Well, you just got yourself a deal, a great investment with many years of successful hunting memories ahead of you! Big games won't stand in front of the new Barnett Ghost 375 Crossbow for long.
Recommendations
As advised by the manufacturer, it is recommended to use 400-grain bolts or heavier for an optimal experience and effectiveness of your brand new crossbow. Using bolts that are too light for the crossbow may lead to void the warranty of the manufacturer. The bolts included in the package are 400-grain.
Features
Draw Weight: 165 lbs
Speed: Up to 385 FPS
Kinetic Energy: 115 ft-lbs
Power Stroke:

14.125"

Length: 

36.25"

Width:

20.25" uncocked, 16.75" cocked

Mass Weight: 7.1 lbs

Realtree Max-1

®

 Camo finish

Carbonlite Riser

TriggerTech Frictionless Release Technology

Metal Injection Molded (MIM) Trigger

An Ultralight CRT Step Thru Riser

Single Bolt Assembly
Anti-Dry-Fire

Bristle Brush Arrow Retainer

Finger Safety Reminders

Pass-Through Foregrip

Pre-installed String Stops

7/8" Picatinny Rails

Anti-Vibration Technology Limbs

Allows for the integration of a Crank Cocking Device
The Barnett Ghost 375 Crossbow Package includes:
A 4x32 Illuminated Push Button Scope
A Rope Cocking device
A Side Mount Quiver
Two 20" Headhunter arrows (400 grain)
A Sample of Lube Wax
Description
The Barnett Ghost 375 Crossbow replaced two well-known previous models; the Ghost 360 and Ghost 385, to become one upgraded model. 
In fact, the Ghost 375 has great available power by shooting up to 375 FPS with a 400-grain bolt for an expected 124.9 ft-lbs. of kinetic energy at 165 pounds of draw weight. You are more likely to improve your penetration potential by slightly compromising on speed if you opt for heavier projectiles. The heavier the arrows, the slower it gets but the higher the penetration potential, which may be a good pick for hunting bigger games with stronger bones depending on your preferences.
No matter which scenario you pick, this crossbow offers more than enough speed and power to take down any tough North American game.
Barnett made this model a compact one and the carbonlite riser moves the foot stirrup in the riser assembly all in order to enhance the shooting experience of this crossbow and made it way easier to handle. The Realtree Max-1® camo blends smoothly in any kind of background to match your game hunting.
The new Triggertech trigger completely eliminates the creep of previous Ghost model triggers. The zero-creep Frictionless Release Technology creates a free-floating roller between the sear and the trigger for a cleaner crisp break at only 3 pounds of pressure. Barnett also changed the arrow retention spring for a bristle arrow retention. This device reduces noise and increases precision by improving the arrow grip and its alignment on the flight track.
As for safety, Barnett provides quality automatic safety and anti-dry-fire system. It also features a finger reminders and a pass-through foregrip for added safety. The xbow comes with pre-installed string stops (string suppressors).
The crossbow comes with a rope cocker and is compatible with crank cocking device.
2017 Barnett crossbows raised crossbow standards to another level. The Ghost 375 is clearly an example of it.
Customer Reviews
You need to be logged in to submit a review.
There are no reviews for this product yet. Be the first to give feedback.