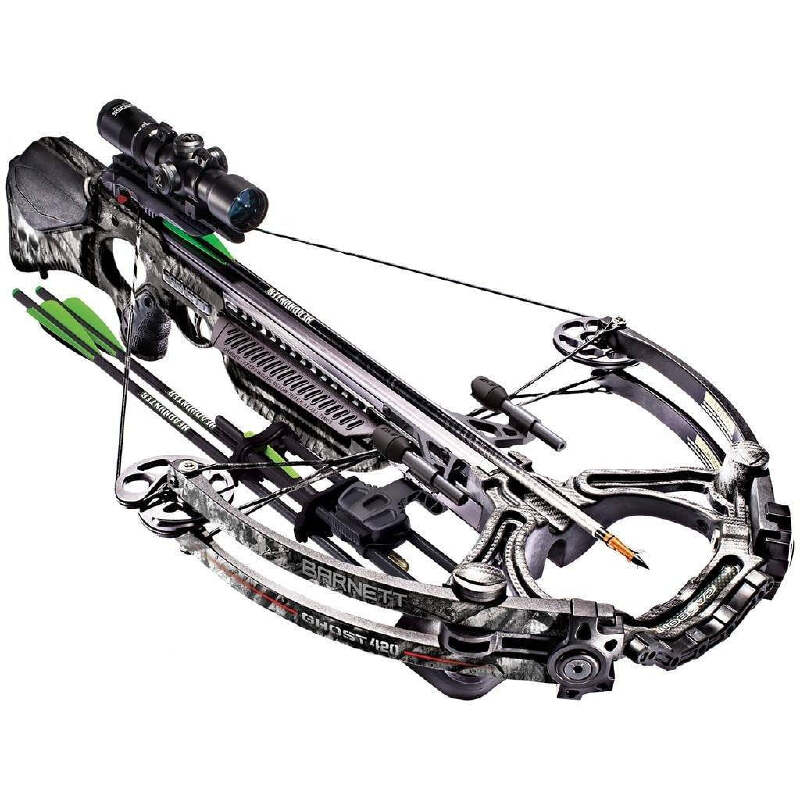 Barnett Ghost 420 Crossbow Package
by Barnett
Free Shipping on all orders over $59 for continental USA. No hidden fees.
Shipping & Returns: Learn More
Description
Benefits
The Ghost 420 features the same stealth design from the Ghost series but its exclusive Mossy Oak Treestand Monochromatic finish has this little oomph that other Ghost models don't have. Be this perfect shadow tracking your target unseen!
Recommendations
Extreme velocities come with extra care. Don't forget to wax string and cables after intensive use.
Features
Speed: 420 FPS,
Draw weight: 185 lbs.,
Power Stroke: 15.375" 
Width: 20." axle to axle,
Mass Weight: 7.6 lbs.
The Barnett Ghost 420 Crossbow Package Includes:
The top-of-the-line 1.5x5x32 illuminated scope syncs reticles with speed to enhance accuracy

,
A Rope Cocking Device,
A Side Mount Quiver with Side Mount Adapter
Two 22" headhunter arrows,
A Crossbow Talon Sling,
Sample of Lubewax,
A Rubber Butt Pad Extender.
Description
The Barnett Ghost 420 Crossbow offers a great deal of velocity. This compound crossbow is among the fastest on the market for 2017. Barnett has taken a turn in its 2017 crossbow technology and provides more efficient features.
The Barnett Ghost 420 generates 420 FPS for about 156.6 foot per pounds of kinetic energy with 400-grain bolts or about 149 ft-lbs. with 380 grain bolts at 185 lbs. of draw weight. Its velocity will assure you good groupings as good at 70 yards as if you were shooting at 30 yards. Distance is then no more an issue while hunting or target shooting. 
Barnett in 2017 invested in new technology toward their crossbows. The Ghost 420 features a Carbonlite riser to reduce front end weight and a machined aluminum flight track. You will then feel the weight more into your shoulder increasing your aiming and then your precision.
Since the velocity of the Ghost 420 is transformed into vibration after release, the string dampeners help this crossbow to stay quiet and stay in stealth mode.
The new Triggertech trigger eliminates completely the creep of the previous trigger into the other Ghost models. This Frictionless Release Technology creates a free-floating roller between the sear and the trigger for a cleaner crisp break at only 3 pounds of pressure. They also changed the arrow retention spring for a bristle arrow retention. This device reduces noise and increases precision by improving the arrow grip and alignment.
As for safety, Barnett provides quality automatic safety and anti-dry-fire system. It also features a finger reminders and a pass-through foregrip for added safety. The crossbow comes with a rope cocker and is compatible with crank cocking device.
This is a great crossbow with a great look with an impressive velocity. Its extreme speed combined with its top of the line scope gives you more flexibility to make arrows super-efficient at longer distances.
Customer Reviews
You need to be logged in to submit a review.
There are no reviews for this product yet. Be the first to give feedback.