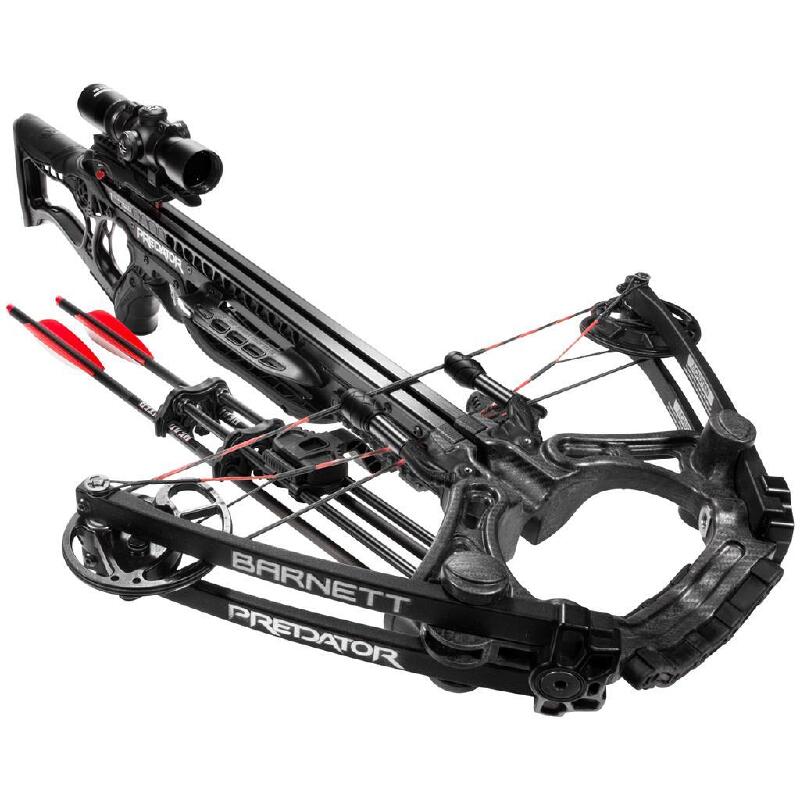 Barnett Predator Crossbow Package
by Barnett
Free Shipping on all orders over $59 for continental USA. No hidden fees.
Shipping & Returns: Learn More
Description
Benefits
Establish since 1962, Barnett finally developed a compact, easy to maneuver accurate up to 430 FPS crossbow. Feel the experience and feel the reliability. Go Barnett Predator!
Features
Speed: Up to 430 fps,
KE: 156 ft lbs,
Power Stroke: 16.25",
Draw Weight: 187 lbs,
Weight: 7.6 lbs,
Axle to Axle: 17.875".
Triggertech Trigger
Soft-lok floating bristle arrow retainer
Carbonlite step through riser
Barnett Predator Crossbow Package Includes
1.5-5x32 illuminated scope,
A rope cocking device,
A side mount quiver,
2- 22" Headhunter bolts 
Lubewax.
Description
In an era of speed, Barnett is up to the task. The new 2018 Predator brings it up to 430 FPS with the included bolts. Nothing can resist that power, will you?
The Predator is perfectly balanced having more weight in its rear part to facilitate your aiming. Featuring a full carbon step-through riser, one-off ventilated composite stock and a machined aluminum flight track, the Predator Crossbow is easy to hold with one hand so you can concentrate on your target without feeling any fatigue while holding the crossbow for several minutes. 
The RUCS is a new innovation on this model (Retractable Underarm Counter-Balance Support). The System is a foldable arm that extends from the stock and hooks under the user's arm to provide maximum stability. 

The crossbow trigger box is the proven three-pound TriggerTech trigger system with Frictionless Release Technology. This trigger breaks cleanly and generates a crisp feel when pressed resulting in a maximum precision.

The package is ready-to-shoot out of the box package with an improved scope compared to 2017 Barnett crossbows.
Customer Reviews
You need to be logged in to submit a review.
There are no reviews for this product yet. Be the first to give feedback.