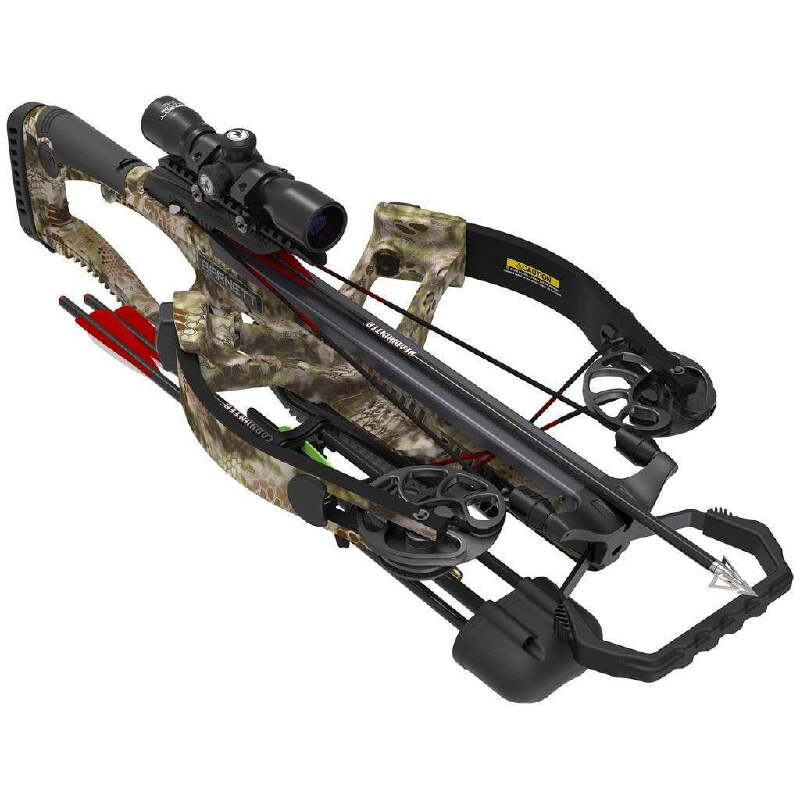 Barnett Vicious Crossbow | Reverse Crossbow
by Barnett
Free Shipping on all orders over $59 for continental USA. No hidden fees.
Shipping & Returns: Learn More
Description
Benefits
Perfect balance, great velocity in a compact and light crossbow. Hard to ask more from a Barnett. These features are what you are looking for when you see yourself in your blind or tree stand. Have a nice Hunt!
Features
Shoots 340 fps.
Draw weight: 150 lbs
Mass Weight: 6.5 lbs.
Width: 16.75" uncocked and about 9" cocked.
Power Stroke: 15.375"
Length of the crossbow: 31.7".
The Barnett Vicious Crossbow Package Includes:
A 4x32mm Illuminated Scope
A Rope Cocking Device
A Side Mount Quiver
Two 20" Headhunter™ Arrows
A String Dampeners
A Lubrication Wax
Description
The Barnett Vicious Crossbow is an efficient reverse crossbow created especially for tight hunting places with only 9" axle-to-axle when cocked. Based on BC Raptor structure, this crossbow beneficiates of the 2017 technological turn took by Barnett toward their crossbows and come with the same quality compact design. This reverse draw crossbow comes fully assembled which gives you more time to shoot it right after unboxing it.
The Barnett Vicious Crossbow generates up to 340 FPS for about 97.5 ft-lbs. of kinetic with 380-grain bolts (Tested by Barnett) at 150 pounds of draw weight. However, If you are using 400-grain bolts, you should expect less speed but more kinetic energy and momentum. In both situations, the Barnett Vicious still a deadly highly maneuverable crossbow for tight hunting places. 
The combination of the Carbonlite riser and the reverse draw technology generates a better distribution of the crossbow weight in a more central-rear position. This technology generates more precision because the crossbow is easier to aim without causing fatigue while holding for several minutes before shooting your target.
Barnett installed the new Triggertech trigger technology into the Vicious crossbow. It eliminates completely the creep of the previous trigger into the Barnett models. This Frictionless Release Technology creates a free-floating roller between the sear and the trigger for a cleaner crisp break at only 3 pounds of pressure. They also changed the arrow retention spring for bristle arrow retention. This new brush arrow retention device reduces noise and increases precision by improving the arrow grip and alignment on the flight track.
As for safety, Barnett provides once again quality automatic safety system and anti-dry-fire system. It also features a finger reminder, a pass-through foregrip and an adjustable butt pad for added safety. The crossbow comes with a rope cocker which is really a must in any package nowadays. It's also compatible with a crank cocking device (not included)
The Vicious Crossbow follows its predecessor but raises up its efficiency with better technology for an increased hunting or shooting experience.
Customer Reviews
You need to be logged in to submit a review.
There are no reviews for this product yet. Be the first to give feedback.