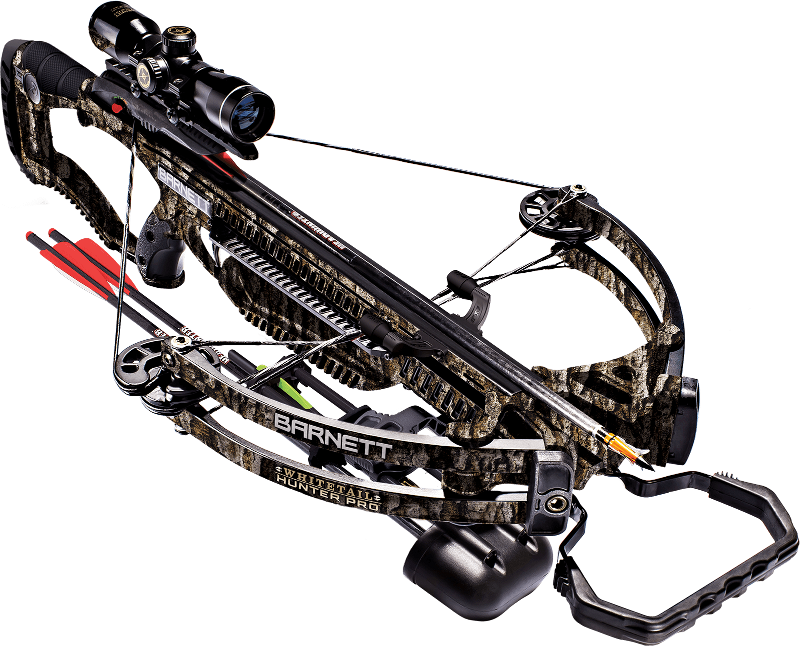 Barnett Whitetail Hunter Pro Crossbow
by Barnett
Free Shipping on all orders over $59 for continental USA. No hidden fees.
Shipping & Returns: Learn More
Description
Benefits
The Whitetail Hunter Pro bears its name and leaves no doubt that his primary function is for hunting whitetails and this, with a great efficiency.
Features
Speed: 380 FPS 

with 380-grain arrows

Kinetic Energy: 122 ft-lbs with 380-grain arrows
Axle-to-Axle Width: 16.125 inches (uncocked)
Total Length: 35.25" including anti-vibration foot stirrup
Weight: 6.4 lbs
Draw Weight: 160 lbs
Power Stroke: 13.625"
TriggerTech
Anti-Dry Fire
Crank Device Compatible
The Barnett Whitetail Hunter Pro Crossbow Package includes:
4x32mm Multi-Reticle Scope
Two 20" HeadHunter Arrows of 400.6 grains with 100-grain field points
String Dampeners
Side Mount Quiver
Rope Cocking Device
Lubrication Wax
Description
The Barnett Whitetail Hunter Pro featuring a magnesium riser and CNC machined aluminum rail is a comfortable and compact crossbow model nicely covered with a high-quality TRUBark HD finish.
It may have Whitetail in its name but don't let that fool you, this Barnett will take down the biggest games out there without any struggle with its 380 FPS of speed and its 122 ft-lbs of Kinetic Energy. This outstanding power is generated through custom composite laminated limbs with 160 pounds or draw weight and a power stroke of 13.625 inches.
Note that the speed test was made using 380-grain arrows but what is included with it are two 20" Barnett Head Hunter Bolts weighing 400.6 grains each including a 100-grain field point meaning that the overall speed would slightly decrease with the heavier projectile but the Kinetic Energy and Momentum values would slightly increase delivering greater power and penetration for hunting.
The Barnett Whitetail Hunter Pro Crossbow features the TriggerTech Frictionless Release Technology offering a light and smooth 3-pound MIM (Metal Injection Molded) trigger. It also features a Soft-Lok arrow retainer and an Anti-Dry Fire System eliminating the risk of having a misplaced bolt and/or dry firing the crossbow.
To enhance hand safety and comfort for the shooter, the Whitetail Hunter Pro has a pass-through foregrip and finger safety reminders.
This Barnett Crossbow is also very quiet with the String Dampeners included in the package along with an Anti-Vibration Foot Stirrup.
Simply put, this crossbow package is an all-in-one for the avid hunter looking forward to experiencing the hunt of a lifetime.
Customer Reviews
You need to be logged in to submit a review.
There are no reviews for this product yet. Be the first to give feedback.