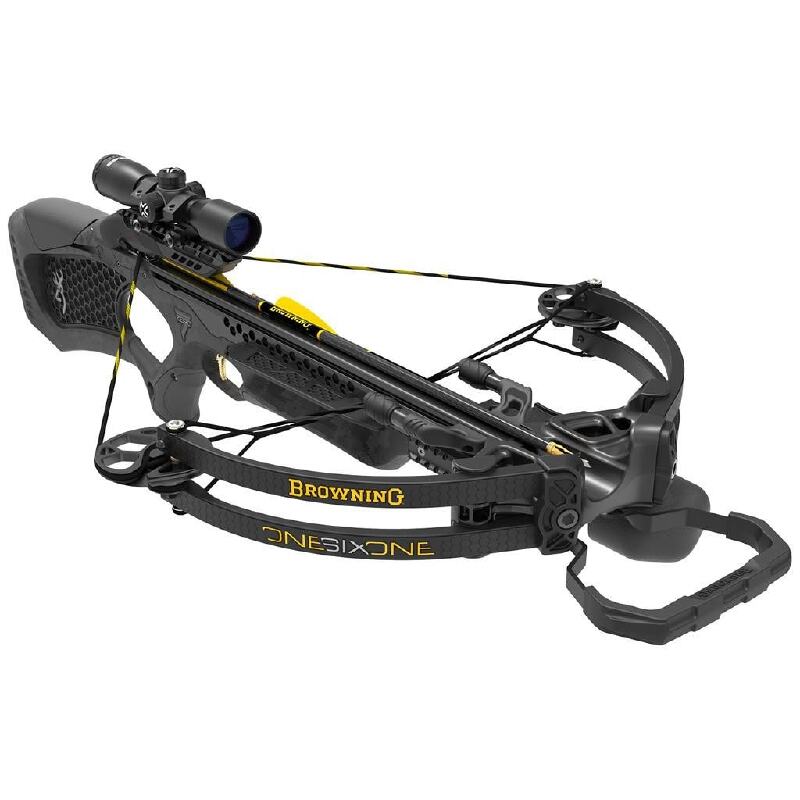 Browning 161 Crossbow
by Browning
Free Shipping on all orders over $59 for continental USA. No hidden fees.
Shipping & Returns: Learn More
Description
Benefits
A new competitor on the market but far from being a beginner in the hunting field. The Browning 161 encompass all features necessary to enjoy a great shooting experience.
Features
Draw Weight: 135 lbs
Speed: 350 FPS
Stroke: 14.625"
Width: 21.875"
Overall Length: 36.75"
Mass Weight: 7.2 lbs

Made in the U.S.A

Left and right side Picatinny
Flight Track Hook Groove for Rope Cocking Device and Crank Cocking Device
Browning Comfort Ledge Palm Rest
The Browning 161 Crossbow Package Includes:
Cross 4 x 32 mm Illuminated Crossbow Scope
3 22-inch Premium Carbon Arrows,
Premium Browning quiver

Browning Rope Cocking Device

Browning Soft Sound String Suppressors
Description
The Browning 161 Crossbow is a beauty of engineering in its design and efficiency. The gold lettering, the gold fletching on the arrows, the black and gold string and the well-known gold trigger with the all black finish leave a great feeling at first look. The honeycomb structure in the stock combined with the gold trigger give the browning 161 crossbow a unique design and make this crossbow recognizable without having to read the name on it. 
Browning took seriously transferring the same quality and efficiency of their guns and rifles into their crossbows. They loaded with high-end features this crossbow to facilitate the transition from rifle hunting to crossbow hunting. 
The laminated custom limbs, the honeycomb stock, the molded rubber guards and the magnesium riser are responsible for its 7.2 pounds. This crossbow won't cause fatigue when aiming for several minutes. The stock goes smoothly into the shoulder so you can feel how well balanced is this crossbow.
This crossbow has been rubberized to absorb maximum vibration from every shot. The 161 delivers 350 FPS which is released by the excellent Trigger tech trigger. This frictionless technology gives a clean break for maximum performance.
Cocking the browning onesixone crossbow is one of its main advantages. With only 135 lbs. of draw weight, it is almost effortless with the rope cocking device included in the package. There is an option for a crank cocking device which is sold separately.
Safety on rifles is crucial and Browning knows it so they have built in an anti-dry-fire system that doesn't allow you to turn safety off if the bolt is not well seated at the rear of the flight track. this new piece of technology is called a nock sensor.
Customer Reviews
You need to be logged in to submit a review.
There are no reviews for this product yet. Be the first to give feedback.