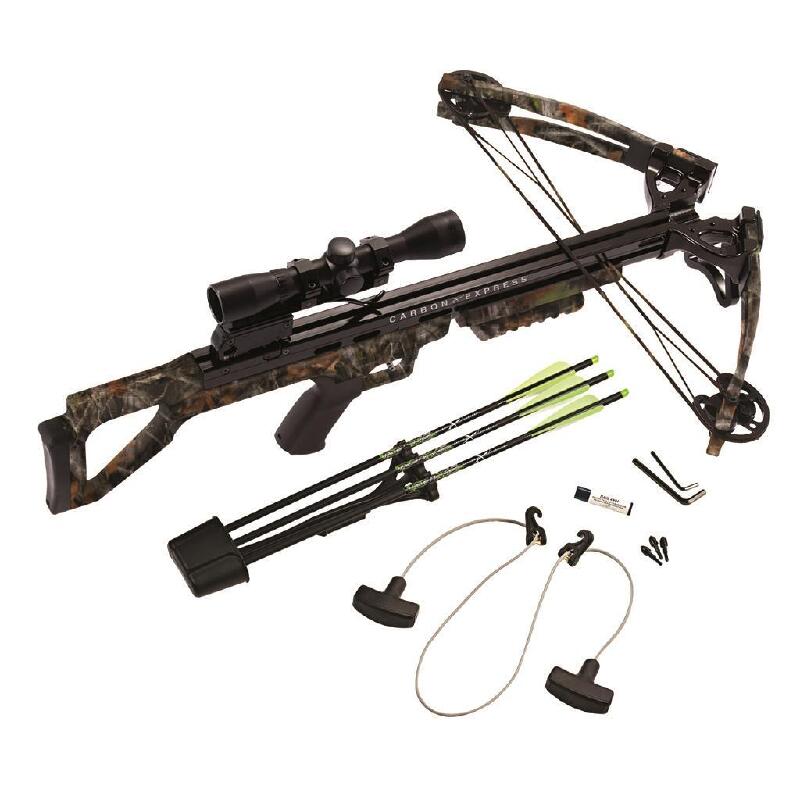 Carbon Express Covert 3.4 Crossbow
Free Shipping on all orders over $59 for continental USA. No hidden fees.
Shipping & Returns: Learn More
Description
Benefits
This ready-to-hunt package includes one of the best bolts for hunting and combined with its velocity, the Carbon Express Covert 3.4 Crossbow become a serious tool for success. Great for every level shooter and human sizes.
Feature
Draw Weight: 175 lbs.,
Mass Weight: 7 lbs.,
Length: 30.75",
Width: 16.25" (cocked),
Speed: 345 fps,
Power Stroke: 13.5",
Arrow Length: 20". 
Carbon Express Covert 3.4 Crossbow Package Includes
:
A rope cocker,
3 Arrow quiver,
(3) Pile Driver bolts,
Rail lube,
4X32 Multi-Reticle scope.
Description
Carbon Express crossbows are about efficiency more than looks. Every part made on this crossbow is created for getting results when shooting. The crossbow features a high-performance trigger box that delivers clean and crisp trigger pull.
Adjustments for the scope are simple and provide an easy sighting-in. Lightweight at only 7 pounds, this crossbow won't cause any fatigue after few hours of shooting.
The compactness of the Covert 3.4 increases its maneuverability for shooting and hunting. The Covert 3.4 crossbow generates a blasting 345 FPS for about 114 ft-lbs of kinetic energy at 175 pounds of draw weight.
Setting up this crossbow is made for people that know nothing about them. The assembling is easy and well instructed in the manual.
Perfect for kids, women and those who want their first efficient hunting experience.
Customer Reviews
You need to be logged in to submit a review.
There are no reviews for this product yet. Be the first to give feedback.