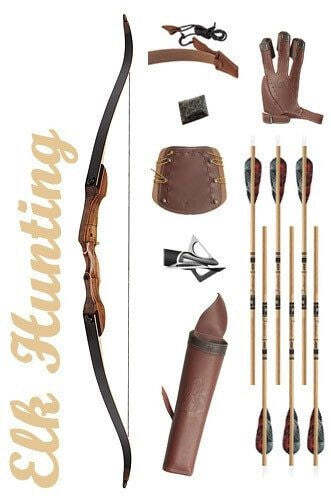 Elk Hunting Recurve Bow Package
Free Shipping on all orders over $59 for continental USA. No hidden fees.
Shipping & Returns: Learn More
Description
Description
The Elk Hunting Recurve Bow Package has been put together in order to favor the hunting minded archer who wants a powerful bow with quality accessories at a discounted price over choosing items separately.
The recurve bow included is an OMP Mountaineer 2.0, although available in more draw weights when bought individually you can only select between 50 and 55 lbs with this package, either as a righty or a lefty. The reason being that the recommended draw weight for elk hunting would be no less than 50 lbs.
Though, if you desire to get lower poundage limbs, simply leave a note when ordering by telling us which draw weight you want.
The package also comes with a 6-pack of Gold Tip Traditional Arrows with feathers and a 3-pack of G5 Striker Broadhead with very sharp replaceable blades by default but you can choose to change them. 
You get to select optional pieces of equipment such as a tab or glove, an armguard, and a quiver.
An arrow rug rest, a bow stringer, and nocking points are part of the package.
Package Features
OMP Mountaineer 2.0 Recurve Bow Features 
Draw Weights: choice of 50 or 55 lbs

3 piece take-down design allowing for an easy transportation and storage.

Sight, plunger & stabilizer bushings are installed.

Comes with custom Dacron and Flemish twist string.
Weight: 3.4 pounds

AMO length: 62"

Suggested brace height: between 7 1/2"- 8 1/4".
Note: Depending on your selection, your package may look different than what is represented on the product image.
Customer Reviews
You need to be logged in to submit a review.
There are no reviews for this product yet. Be the first to give feedback.