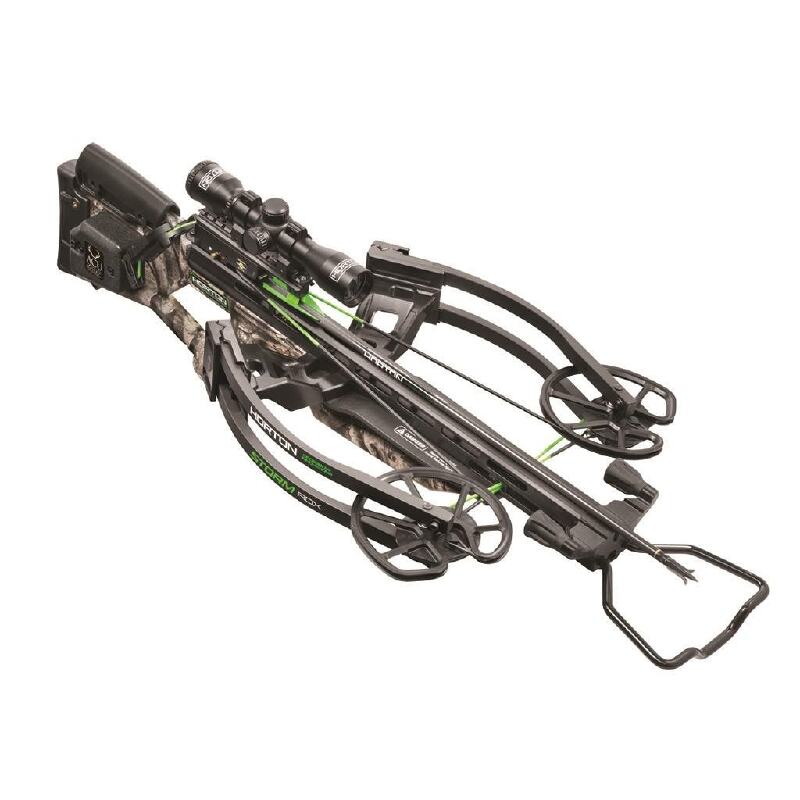 Horton Storm RDX Crossbow Pkg. Multi-Line Scope w/Dedd Sled50 | Horton Reverse Draw Crossbow
by Horton
Free Shipping on all orders over $59 for continental USA. No hidden fees.
Shipping & Returns: Learn More
Description
Description
The Storm RDX combines Horton's Reverse Draw Technology and the ABX Adjustable Bullpup stock for an incredibly compact, well-balanced crossbow. The bow features a 20" tactical aluminum barrel and tactical black 165 lb. limbs. TPE rubber safety wings located above the grip keep fingers from moving above the flight deck. Horton's integrated string stop system uses high impact TPE rubber dampeners that effectively reduce noise and vibration. Reverse Draw Technology results in a remarkably narrow profile of only 10" axle-axle when cocked. The automatic safety and dry-fire inhibitor increase the safety of the shooting experience. Has a 3.5 lb. Bullpup T3 trigger. 
Features
Shoots an impressive 370 fps.
Bow weight 7.7 lbs.
Length w/ stirrup 35.25".
Draw weight 165 lbs.
Axle-axle 15.5".
The Storm package includes: Horton 4x32 multi-line scope, 3-arrow quiver, and 3 carbon arrows. Mossy Oak Treestand finish.
Customer Reviews
You need to be logged in to submit a review.
There are no reviews for this product yet. Be the first to give feedback.