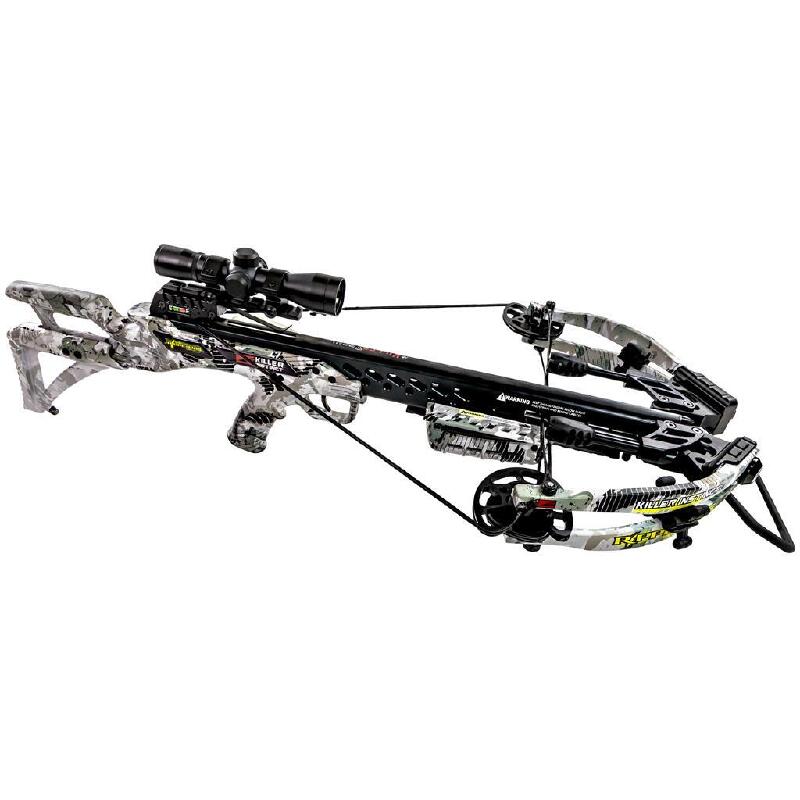 Killer Instinct Ripper 415 Crossbow Package
Free Shipping on all orders over $59 for continental USA. No hidden fees.
Shipping & Returns: Learn More
Description
Before you decide what the best hunting crossbow to get, don't forget to consider what the Killer Instinct Ripper 415 can offer you first. Many customers can, first of all, appreciate that this premium hunting crossbow is now declared tobe one of today's finest hunting crossbows used both for beginners and advanced enthusiasts. Whether you're still starting to test the waters if crossbow hunting is for you or you want to level up your hunting skills, investing in the Ripper gets you to where you want to go. Plus, its 400 fps in speed is a top-of-the-line bonus, considering that you'd have to just shell out $400 to acquire this nimble piece of bowing gear. Talk about a serious contender in the world of crossbows.

Added features of this crossbow include its lightweight trigger at 3.5 lbs.; its 14.25" cocked width, or 17.76" when uncocked; length of about 35"-36.5; draw weight of 200 lbs; and a power stroke of about 15". Indeed, it's not a stretch to highlight here that you are packed with extra bonus gear when you buy this crossbow package. Some of the accessories that come with this are an illuminated LUMIX IR-W 4X32 scope, three KillerTech Bolts, a quiver, rope cocker, rail lube and string suppressors.


Benefits
The Killer Instinct Ripper 415 is among the best hunting crossbow that you will run across that exceeds 400 fps in speed, and this, under $400. If you are beginning shooting or hunting with a crossbow, the Ripper 415 is certainly the most serious contender that you should consider especially at such price.
Features
Speed: 415 fps,
Trigger: 3.5 lbs,
Width: 14.25" cocked, 17.75" uncocked,
Length: 35"-36.5",
Weight: 6.9 lbs,
Draw Weight: 200 lbs,
Power Stroke: 15".
The Killer Instinct Ripper 415 crossbow package includes
Illuminated LUMIX IR-W 4x32 Scope,
3 KillerTech Bolts,
String Suppressors,
Quiver,
Rope Cocker 
Rail Lube.
Description
Killer Instinct is an uprising crossbow manufacturer and targets a really large market by offering great technological crossbows at a really affordable price. The Ripper 415 is probably the best crossbow on the market to experience bolts exceeding 400 FPS and this, under $400. 
To begin crossbow shooting or getting into crossbow hunting, the Ripper 415 offers a great package to ease your learning. This crossbow is easy to sight-in and is really forgivable for beginner mistake. The Ripper 415 is described as a Sub-1 inch crossbow. This means that you should easily group your arrows under an inch of distance at any distance under 80 yards. A narrow, lean profile and lightweight, balanced body that is ready for dead aim 
The Crossbow delivers 415 FPS at 200 pounds of draw weight. The Ripper 415 generates 149 ft-lbs of kinetic energy with their included bolts.
KillerTech Trigger is consistent and crisp to aide in long range accuracy. Fully adjustable stock and forearm grip, along with custom rubber shock absorbers, provides the ultimate performance and comfort for any crossbow shooters.
Customer Reviews
You need to be logged in to submit a review.
There are no reviews for this product yet. Be the first to give feedback.