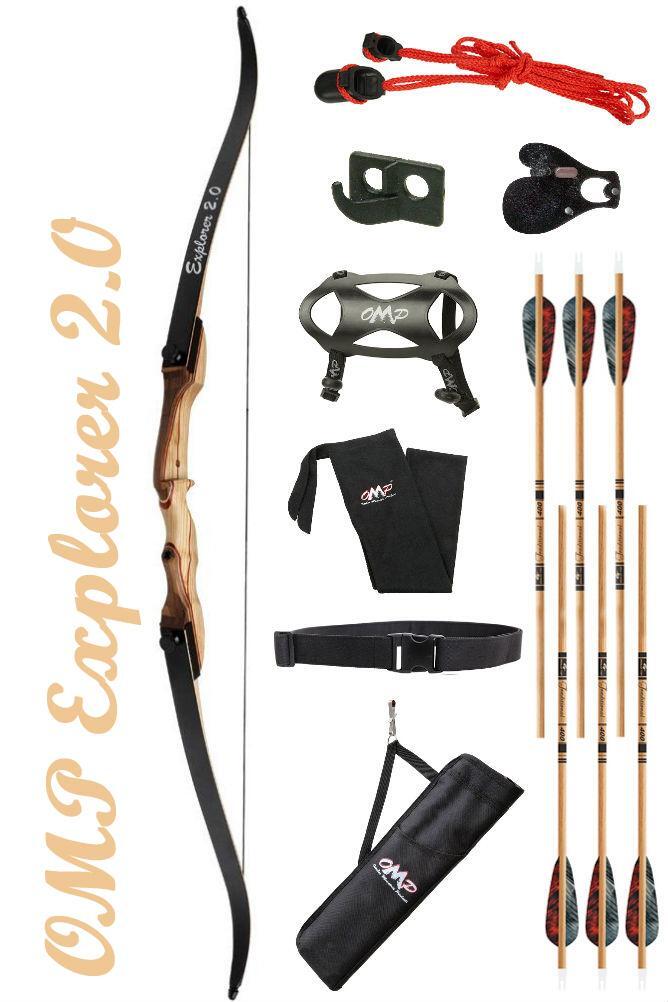 OMP Explorer 2.0 - Beginner Package Deluxe
Free Shipping on all orders over $59 for continental USA. No hidden fees.
Shipping & Returns: Learn More
Description
Benefits: The OMP Explorer 2.0 package deluxe is a superior level beginner recurve bow encompassing all the necessary items so you can eliminate the risk of picking the wrong accessories, overpay for things you don't really need as you start. 
Recommendations: When choosing your bow, don't pick a draw weight that might be too heavy; focus on acquiring a good archery form with a lower poundage bow to gain experience and shoot numerous arrows without feeling muscle fatigue or pain. To choose the proper arrow length, calculate your draw length and add 1" to 2" to your draw length measurement to have your ideal arrow length. If you are not sure if you are a lefty or a righty, test your eye dominance which would tell you the hand you should be drawing with. Wonder which bow size (AMO Length) you should pick? This would have a greater impact if you are into target archery; determine the proper bow size by looking at the bow length recommendations.
Features
OMP Explorer 2.0 Features
3-piece take-down recurve bow
Sight, plunger and stabilizer bushings installed
Heavy-duty aluminum limb pockets
Slim-grip design
A level above starter recurve bow
Suggested brace height:
54" AMO Length: 6 1/2" - 7"
62" AMO Length: 7" - 7 1/2"
Description
The Beginner Package Deluxe is a great all-inclusive package for the archer who wants to be all set and ready to shoot with quality equipment built around the OMP Explorer 2.0, one of the best recurve bow for beginners who want a level
above starting bow.
In other words, start with style and get everything in one shipment from the exact same store by placing one order only. Get ready to shoot in no time!
This recurve bow is ideal for beginners and youth, you will find in this package very useful accessories that might go forgotten by placing separate orders when trying to figure out all by yourself the items you may need to shoot some arrows while being accurate, consistent and protected. 
You need a bow and arrows of course but you also need many objects to have the complete perfect starting kit.
Not only you need arrows with the proper amount of flex in the shaft and the proper length of arrows so that, simply put, but your arrow also hits where you aim consistently and achieve tighter groupings. This package gives you a wide selection of arrows to satisfy all your needs.
Stringing your bow bare hands is possible but might be a bad idea. Damaging your new bow because it slipped from your sweaty hands could cause irreversible damage and would be very sad. A nice thing to have is a bow stringer. As this is a take-down recurve bow, you will need to take it down either to transport it or to store it. A bow stringer is a proper way to remove or put the string back on your bow.
Speaking of transportation and storage, you get to have a sleeve with this package so you can put the three pieces of your recurve bow in it when disassembled. This soft case will protect your bow from scratches.
On the string of your bow, you will be able to put some brass nock points in order to nock your arrows at the same location every single time and avoid it to slip up on the string so you can achieve better accuracy and consistency in your shooting. 
An arrow rest is included too, so it keeps your arrow in place without risk of falling off when aiming and drawing your string back. This basic arrow rest is perfectly made for OMP recurve bows. It is really easy to install.
The Ethics in archery suggests you have a safe compartment to store your arrows, although some may stick their arrows into the ground as a way to hold them, it is always nice to have a belt and a quiver to hold them near you and grab them efficiently shot after shot. The quiver can be switched to suit either a right-handed or a left-handed archer.
Once you start shooting those arrows, you will quickly feel that you won't keep it up forever by relying solely on your fingers to draw that bowstring. It may be good for a couple of shots but after a while, you will come to the conclusion that you need a finger tab to be able to shoot dozen, even hundreds of arrows. On top of that, your fingers produce acidity that in the long run may cause damage to your string.
You will also be protected adequately with an armguard to avoid getting slapped right on the skin by the string when it goes slightly sideways once released or if your arm stands too close to the bowstring. Take it that way, no Olympians shoot without one, so if those professionals have one, there is a reasonable chance that you should too.
So, you want to take on archery in style with proper equipment without breaking the bank? This is one of the very best options available to you if you are into recreational or target shooting with a recurve bow. Even bowhunters had to start somewhere.
Now you just need to work on your archery form, learn techniques and practice so that your brand new package serves its purpose well.
Customer Reviews
You need to be logged in to submit a review.
There are no reviews for this product yet. Be the first to give feedback.