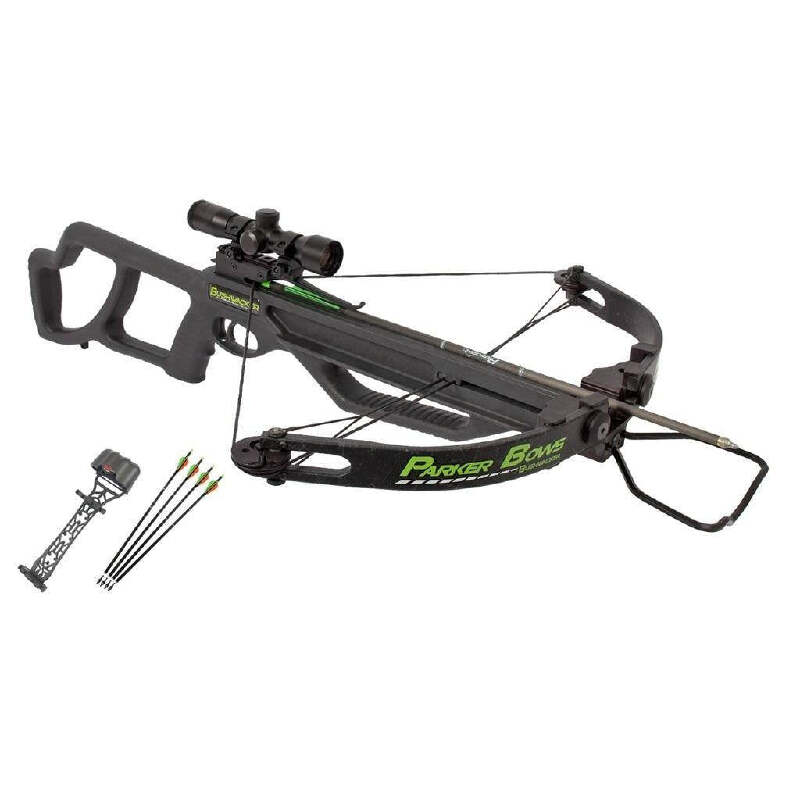 Parker Bushwacker Crossbow Package
by Parker
Free Shipping on all orders over $59 for continental USA. No hidden fees.
Shipping & Returns: Learn More
Description
Description
The Parker Bushwacker Crossbow Package has been redesigned at its front end. It features now the Parker's Advanced Solid Limb Technology with integrated Micro-Lite Limb Pocket System. This new technology provides a lighter and more balanced crossbow for better maneuverability.
Safety wasn't left on the side, its contoured pistol grip and vented forearm help to give a better hold of the crossbow. It also features an auto-engage safety and an anti-dry fire mechanism for both left or right shooters. The G2 Bullpup trigger system provides these two safety mechanisms. This trigger has no creep and breaks cleanly with a minimum of pressure.
Concerning the crossbow itself, the Parker Bushwacker crossbow has a nice SpiderWeb black finish with a black ballistic polymer stock that delivers 300 FPS for about 80 ft-lbs. of kinetic energy with minimum 400-grain bolts. There is an important notice from Parker crossbow products which is saying to use only the Parker Hunter Arrows or the Red Hot Crossbow bolts. Both are great bolts anyway.
How hard is to cock the Bushwacker crossbow? The exclusive Synergy Cams reduce the cocking effort by over 50% when it is paired with the Red Hot EZ roller rope cocker (sold separately). This means it drops the 160 lbs. of draw weight under 80 lbs. when it's paired with the rope cocker. 
You should be able to assemble this crossbow in less than 10 minutes. Really easy and quick to assemble. There is a video below showing how to assemble Parker Crossbows.
Two options of scope are available, the 4X MR scope or the 3X Illuminated MR scope. That goes to personal preferences because they both do their job.
Features
Arrow speed: 300 fps.
Draw weight: 160 lbs.
Axle-axle length: 20.25".
Power Stroke: 11"
Overall length: 37".
Weight: 7 lbs.
The Parker Bushwacker Crossbow Package Includes:
Premium Red Hot optic in two versions:
the 4X MR scope or
the 3X Illuminated MR scope.
A 4 arrow quick detach quiver
4 arrows with field points.
For more Safety, have a look on Parker Website concerning the use of different bolts at Parkerbows.com. Suggested to use only Red Hot or Parker Hunter Arrows with capture nocks in Parker crossbows, 400-grain minimum weight. 
Customer Reviews
You need to be logged in to submit a review.
There are no reviews for this product yet. Be the first to give feedback.