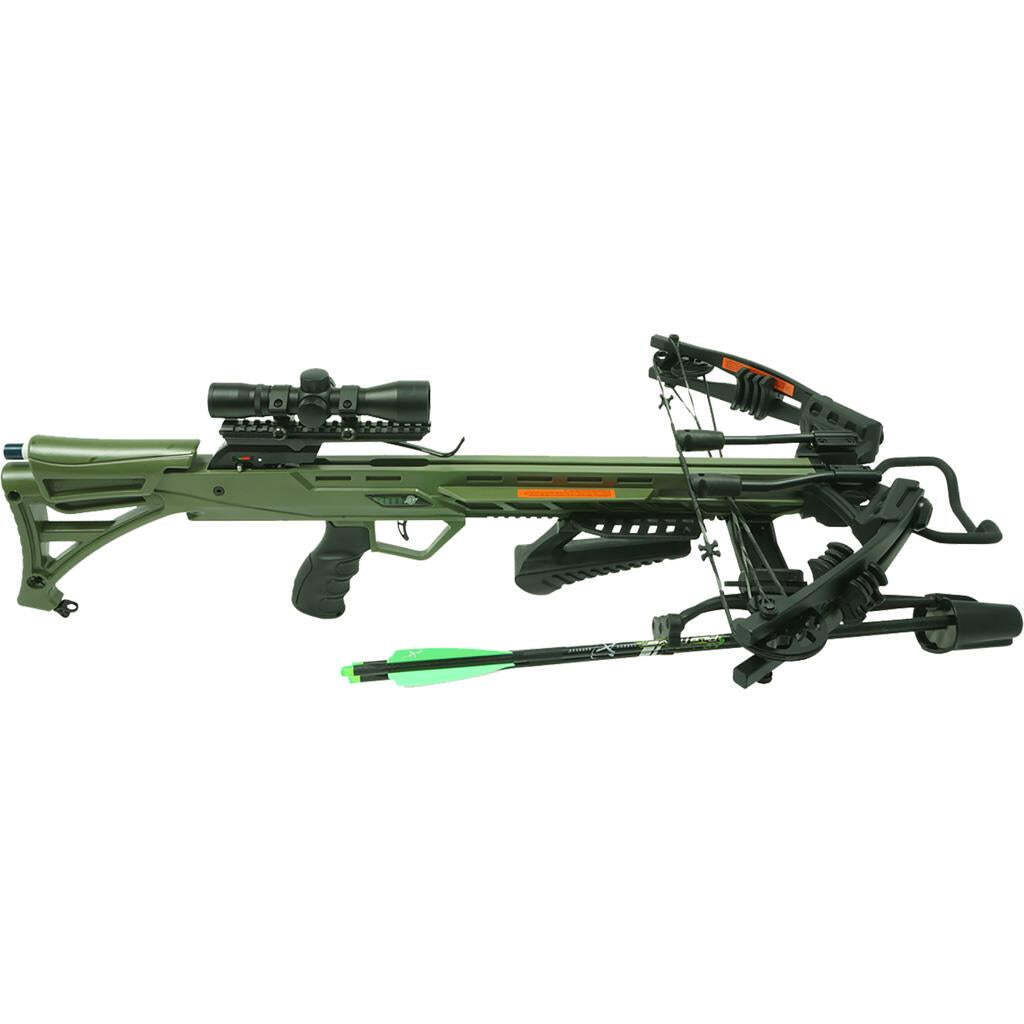 Rocky Mountain RM405 Crossbow Package Black
Free Shipping on all orders over $59 for continental USA. No hidden fees.
Shipping & Returns: Learn More
Description
Rocky Mountain RM405 Crossbow Package Black
Product Description:
The Rocky Mountain RM-405 has high-performance one piece OD green rail, stock and butt stock combined with rock-solid limb system and CNC cams that support an extra-large foot stirrup. The fore grip is fully adjustable for personal comfort fit along with the pistol grip. The RM-405 features a DFS (Dry Fire Safety) system that auto engages when the bow is cocked. Has a quick detach 3 bolt side mount quiver with side mount that comes with three Carbon Express Piledriver bolts with 100 grain field points. Package includes rail lube and T handle rope cocking device. The RM-405 will accept the quiet crank cocking device (sold separately). Also comes with a standard 4 X 32 Illuminated scope and scope rail. Includes string suppressors and limb dampeners installed. Speed: 405 fps, Draw Weight: 200 lbs, Mass Weight: 7.40 lbs., Power Stroke: 14.5", Axle to Axle: 18.5" (un-cocked) or 14.5" (cocked), Overall Length: 35", Kinetic Energy: 139 ft. lbs.
Product Highlights:
One piece rail, stock and butt stock combined
CNC cams
Extra large foot stirrup
Comes with T handle rope cocker. This model will accept the Quiet Crank cocking device
Product Specs:
Brand/Manufacturer: Rocky Mountain
Item Name: Rocky Mountain RM405 Crossbow Package
Vendor's Item Number: RM58003
Item UPC: 818322013024
Attributes: Black
Primary Color: Black
Weight: 7.400
Axle to Axle: 18.500
Draw Weight Max: 200
Power Stroke: 14.500
Speed: 405

Customer Reviews
You need to be logged in to submit a review.
There are no reviews for this product yet. Be the first to give feedback.