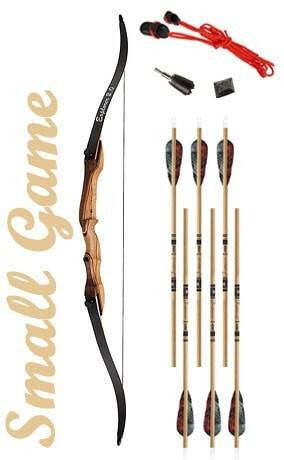 Small Game Hunting Recurve Bow Package
Free Shipping on all orders over $59 for continental USA. No hidden fees.
Shipping & Returns: Learn More
Description
Description
The Small Game Hunting Recurve Bow Package features the OMP Explorer 2.0 along with Gold Tip Traditional Arrows and Saunders Bludgeon Small Game Head, ideal for delivering hard blows without ruining the animal.
The Explorer 2.0 is an affordable yet high performing bow on the field. It is great for target shooting or for small game hunting, such as cottontail rabbits, frogs or squirrels for instance.
Consider upgrading to another model if you are interested in medium or big game hunting.
A great starter bow that will allow you to shoot in your backyard, in an archery field or to gather some meat from the woods.
Explore the possibilities with the Explorer 2.0!
Package Features
OMP Explorer 2.0 Features
Convenient 3-piece take-down design allows for ease of assembly, and storage during the off-season.

Equipped with sight, plunger & stabilizer bushings installed in bow.

Each Explorer 2.0 recurve bow comes standard with Dacron String included.

AMO bow length 54" or 62" tip to tip.

Suggested brace height is between 7 1/2"- 8 1/4".

Ideal for archers of all ages. Good beginner bow
Note: Depending on your selection, your package may look different than what is represented on the product image.
Customer Reviews
You need to be logged in to submit a review.
There are no reviews for this product yet. Be the first to give feedback.