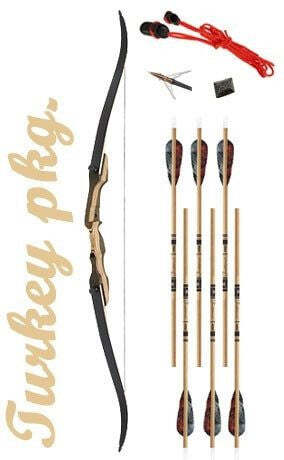 Turkey Hunting Recurve Bow Package
Free Shipping on all orders over $59 for continental USA. No hidden fees.
Shipping & Returns: Learn More
Description
Description
The Turkey Hunting Recurve Bow Package got you covered with the right equipment for bagging some gobblers this season. 
The strong and reliable OMP Smoky Mountain Hunter bow comes by default with Traditional hunting arrows which you can upgrade if desired and the proven Rage Xtreme mechanical broadhead with a large cutting diameter and a pair of meat hook to minimize the chances of pass-throughs.
If mechanical broadheads aren't legal in your state, you get the option to go for the Dirt Nap Gear Shred Head or if you are more of a neck and head shooter, you get to choose within some of the best models available out there such as the Magnus Bullhead or the Arrowdynamic Gobbler Guillotine.
Package Features
OMP Smoky Mountain Hunter Recurve Bow Features 
Smoky Mountain Hunter comes equipped with stabilizer bushings,

Sight and plunger bushings installed.

Smoky Mountain Hunter is available in 40-50lbs and is 62" in length.

Fast Flight string compatible.

Suggested Brace Height: 7 1/2-8 1/4".

Dacron string included.
Note: Depending on your selection, your package may look different than what is represented on the product image.
Customer Reviews
You need to be logged in to submit a review.
There are no reviews for this product yet. Be the first to give feedback.