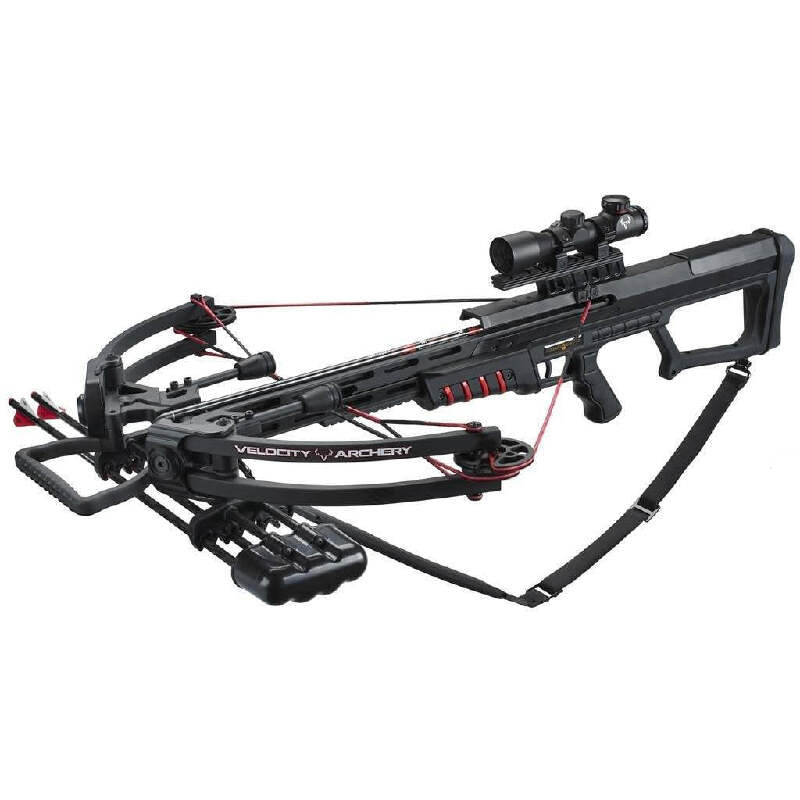 Velocity Armageddon Crossbow Package
by Velocity
Free Shipping on all orders over $59 for continental USA. No hidden fees.
Shipping & Returns: Learn More
Description
Description
The Velocity Armageddon Crossbow is a quite powerful weapon with 350 fps and 110 of kinetic energy allowing you to put down just about any size of games out there.
A little bit on the long side with a total length of 35" with the foot stirrup, this crossbow may not be suitable for everyone and may be uncomfortable for a person with a shorter arm length.
The 4 pounds trigger pull contribute to enhancing accuracy when shooting the crossbow.
The adjustable front grip feels comfortable and is designed to avoid your fingers to be sticking up and get caught by the string while shooting which add to the safeness of the Armageddon.
For the low price point, Velocity really managed to get out another great product on the market.
Features
Draw weight: 175 lb
Speed: 350 fps
Kinetic Energy: 110 ft. lbs
Total Length: 35"
Axle-to-Axle Width: 23.5"
Mass Weight: 7.8 lbs
Power Stroke: 14.5"
Trigger Pull: 4 lbs
The Velocity Armageddon Crossbow Package includes:
4x32 Illuminated Reticle Scope
A Quiver
3 Inflix Bolts of 20" (with 125-grain field points)
Padded Sling
Cocking Rope
Rail Lube.
Ike's Outdoors Review
Customer Reviews
You need to be logged in to submit a review.
There are no reviews for this product yet. Be the first to give feedback.