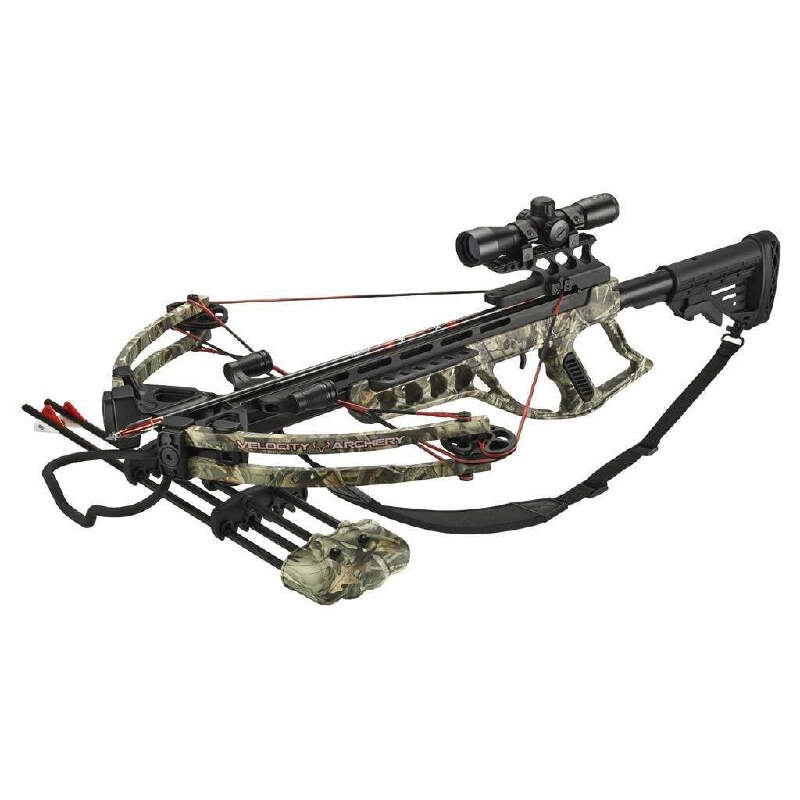 Velocity Justice Crossbow Package
by Velocity
Free Shipping on all orders over $59 for continental USA. No hidden fees.
Shipping & Returns: Learn More
Description
Description
The Velocity Justice Crossbow doesn't just look good it also comes with everything you need, to go on your hunting journey.
This ready to hunt package includes a quick-detach quiver that can hold up to 4 bolts, it also comes with 3 carbon bolts with 125-grain tips, an efficient rope cocking device, a comfort neoprene quick-detach padded sling to carry it around and an illuminated scope 4x32.
Very fast and powerful at 370 fps and 122 foot-pounds Kinetic Energy. Knowing that you need less than 65 foot-pounds to hunt an elk or a black bear, tell me what is gonna stand in front of this crossbow!?...Well, no games can ever stand that power!
You can adjust the AR style stock to your arm length making it very comfortable to hold and shoot.
It is not the lightest crossbow ever at 8 pounds but not the heaviest either and is still quite easy to maneuver.
This Justice also features string recoil noise suppressors and an ambidextrous safety.
The Velocity line is not always the first one that comes to mind when speaking about crossbows, this brand can often be overlooked with the Barnett, TenPoint, Horton and many other brands of this world but Velocity offers nothing less in terms of product quality.
The good news as a sound customer is that you will greatly benefit from that factor as the price tag can't be lower from what you are getting out of it.
Surely one of the best pick out of the Velocity Crossbows!
Features
Draw weight: 185 lbs
Speed: 370 fps
Kinetic Energy: 122 ft lbs
Total length: 36"
Axle-to-Axle Width: 21.5" (uncocked)
Power Stroke: 14"
Trigger Pull: 4 lbs
Weight: 8 lbs
Anti-Dry Fire Inhibitor
Reaper Buck Camo finish
The Velocity Justice Crossbow Package includes:
A 4x32 Illuminated Scope
A 4 Bolt Quiver
3-20" Carbon Bolts
A Padded Sling
Rail Lube
A Rope Cocking Device
Wanna get 2,250 points when buying that crossbow? Sign Up for free to our Hunter's Club Rewards Program now and get 200 additional points!
Customer Reviews
You need to be logged in to submit a review.
There are no reviews for this product yet. Be the first to give feedback.