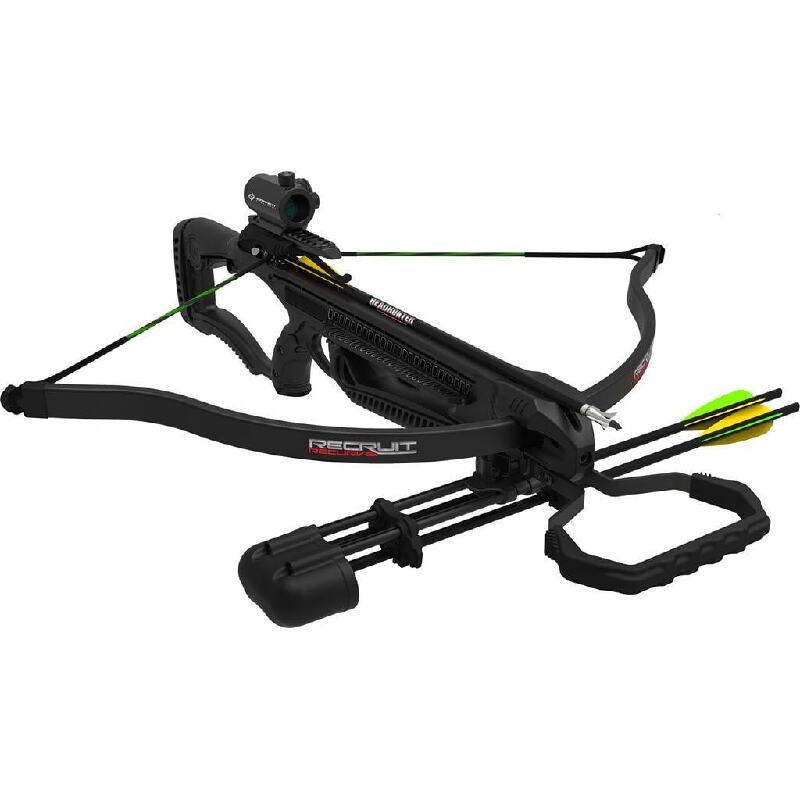 Barnett Recruit Recurve Crossbow Package
by Barnett
Free Shipping on all orders over $59 for continental USA. No hidden fees.
Shipping & Returns: Learn More
Description
Benefits
Perfect entry-level crossbow to know if this will become a passion for you. The Barnett Recruit Recurve crossbow is for every beginner no matter your gender, age or your experience. 
Features
Draw Weight: 150 lbs.,
Speed: 245 FPS,
Power Stroke: 12.5",
Length: 32.5",
Width Uncocked: 27.5",
Mass Weight: 4.5 lbs,
Pass-through foregrip with finger reminders,
Quick detach limb assembly,
Adjustable butt pad,
Lightweight composite stock
The Barnett Recruit Recurve Crossbow Package Includes:
A red dot scope,
A

 

Quick detach 

3 arrow quiver,
(3) 18" aluminum arrows of 400 grains each.
Description
The Barnett Recruit Recurve Crossbow Package is a perfect introduction to recurve crossbow shooting. By definition, recurve crossbows have less movable parts so fewer things can go wrong while shooting. This is a really important feature when you are a beginner. Recurve crossbows are a synonym of durability. This entry-level crossbow will last for a really long time and has everything you need to get started at a really affordable price. 
They designed the Recruit recurve crossbow for smaller frame archers as his companion, the Recruit compound crossbow. It's a super lightweight crossbow with only 4.5 lbs. To cock this crossbow, you have to pull 150 lbs. The average draw weight for recurve crossbows is 178 lbs. The solution to facilitate the cocking process would be a rope cocking aid or a crank cocking device which are sold separately.
For a younger shooter, its adjustability will make this crossbow a "grow with" type of crossbow. On the top of that, assembling the Recruit recurve crossbow is really easy and should take you around 10 minutes.
Barnett recognizes safety as an important element in their crossbows. The Recruit Recurve has a pass-through fore grip with finger reminders and an ADF (Anti-Dry Fire) Trigger Safety System. 
 It is a reliable and precise crossbow for beginners, youth, and smaller shooters.
Customer Reviews
You need to be logged in to submit a review.
There are no reviews for this product yet. Be the first to give feedback.